WELCOME!
The Marchington Singers is a friendly, mixed-age, mixed-ability, mixed-voice choir based in the beautiful village of Marchington in Staffordshire.
We are delighted to have been able to resume singing together very recently after an enforced break of almost 18 months. We are practising for our first concert for ages to take place at 7:30pm on 18th December at St Mary's church in Uttoxeter this year. We will be singing 'A Christmas Carol'; a cantata by Ashley Thompson  based on Charles Dickens's Christmas tale.

Tickets are available here and from any member of the Singers. Because of Covid safety regulations, numbers are limited so act now to avoid disappointment.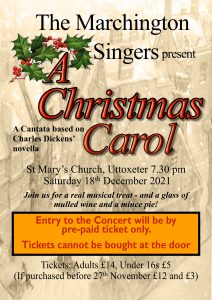 We usually perform regularly; if it weren't for the outbreak of Covid we would still be!

We have been singing together for over 30 years, enjoying performances at a variety of local, national and international venues. We have delighted a wide range of audiences at concerts, weddings and festivals with a wide repertoire ranging from light favourites to four-part choral works to songs from the world of entertainment. We frequently support charities through our fundraising events and activities.
We take a keen interest in supporting and promoting the development of local talent, and our twice-yearly concerts have featured many guest musicians, dancers and singers of all ages, some of whom have gone on to achieve international recognition. We have also recently introduced a Student Bursary scheme  for two aspiring singers up to the age of 25.
We currently have around 50 singers. If you would like to join us, our weekly rehearsals are on Wednesdays at 7.30pm in Marchington Village Hall, ST14 8LF.  We have  now recommenced our practices in as safe a manner as we can, after a pandemic-induced break. If you would like to become part of our community, please contact us – you will be made very welcome!
If it weren't for the pandemic, our concert of Music for Springtime would have taken place on March 28th, 2020 from 7:30pm at St. Lawrence Church in Bramshall.
Unfortunately, in accordance with government guidelines and in the best interest of all concerned, this event was cancelled.

Consequently our most recent performance "Come Follow that Star"; an evening of Christmas music, ancient and modern, took place on Saturday, 7th December 2019 in the Church of St Mary the Virgin, Bridge Street, Uttoxeter.
Data Protection Disclaimer
This site captures no data from or about those people who have visited it, nor does it employ cookies or any other other form of data capture so is therefore not obliged by the Data Protection Act 2018 to require your explicit permission to use this site.