WELCOME!
The Marchington Singers is a friendly, mixed-age, mixed-ability, mixed-voice choir based in the beautiful village of Marchington in Staffordshire.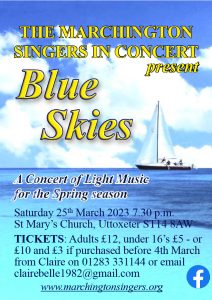 Our next concert,  'Blue Skies' will take place from 7:30pm, on 25th March 2023 at St Mary the Virgin church in the Marketplace in Uttoxeter. Tickets are available from any member of the Singers or by ordering on Eventbrite here. We will be very pleased to perform for you.

The reduced 'early bird' ticket prices are now available until March 11th, extended by a week. Get your tickets on Eventbrite here.


You can see and hear excerpts of our performance in 2022 of 'A Christmas Carol'; a cantata by Ashley Thompson & Debbie McAndrew; based upon Charles Dickens's Christmas tale here; on YouTube.
We are now performing regularly again; if it weren't for the outbreak of Covid in 2020 we would always have been!

We have been singing together now since 1984, enjoying performances at a variety of local, national and international venues. We have delighted a wide range of audiences at concerts, weddings and festivals with a wide repertoire ranging from light favourites to four-part choral works to songs from the world of entertainment. We frequently support charities through our fundraising events and activities.
We take a keen interest in supporting and promoting the development of local talent, and our thrice-yearly concerts have featured many guest musicians, dancers and singers of all ages, some of whom have gone on to achieve international recognition. We have also recently introduced a £500 Bursary Scheme for Young Singers intended to support aspiring singers, up to the age of 25.
Why not come and sing with us?
We currently have around 40 singers. If you would like to join us, our weekly rehearsals are on Wednesdays at 7.30pm in Marchington Village Hall, ST14 8LF.   If you would like to become part of our community, please contact us – you will be made very welcome!


Data Protection Disclaimer
This site captures no data from or about those people who have visited it, nor does it employ cookies or any other other form of data capture so is therefore not obliged by the Data Protection Act 2018 to require your explicit permission to use this site.