We are a varied group of people, all of whom delight in singing together. You can read some more information below about many of the Singers below.
Our conductor: Wendy Scott

After singing alto in Marchington Singers for some years, Wendy was persuaded to take up the baton in 2003 and enjoys introducing new and original pieces to the choir.  She firmly believes that a challenge is good for us! Music has been a major factor in her life since the age of six, when battling infantile arthritis led to an attempt to play the piano in order to keep the hands and fingers agile.  It worked! And one of the best outcomes was a love of all types and genres of music.  She feels immensely privileged to be the conductor of such a great (and getting greater!) bunch of lovely people.
Photo missing
Our Accompanist: Rhoda Castle
Rhoda has been with the choir since 1987, first as a singer and then as accompanist. She studied music at Nottingham University and the Royal College of Music, but her career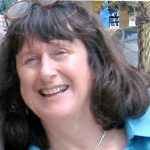 later took a different course and music became a spare time activity. Accompanying the Marchington Singers has been a welcome change from a busy working life in higher education, and has ensured that she continues to find time for music. In addition to her interest in the piano and choral music.
Rhoda is keen on folk music and has been known to sing at the local folk club, accompanied by her son on the guitar.
The Committee 2017 – 2018
Chairman: Shirley Horton
Bio and image to follow
Minutes Secretary: Pat Wrathman
Bio and image to follow
Treasurer: Tim Scott
A founder member of the choir, Tim has sung in both the Tenor and Bass sections.  He has been on the Committee for most of those years – Chairman for six years and Treasurer since 2007.  He has also taken a leading role in organising the two annual concerts (July and December) for more years than he likes to remember! He also sings with a local men's Barbershop group.  When not singing Tim keeps himself occupied with DIY projects and gardening.
Publicity: Caroline Knapton
Caroline moved to Marchington in 2013 after several years working as Head of Music in an International School in Abu Dhabi. She joined the Marchington Singers as soon as she found out they existed and has loved it ever since! Having spent years teaching music, leading choirs and directing school productions, she is really enjoying making music 'for herself' and being part of such a wonderful choir.  Caroline is now taking a break from teaching to renovate the family home, and has temporarily swapped her musical instruments for power tools…. Thank goodness for YouTube tutorials!
Image to follow
Student Bursary Co-ordinator: Paul Wrathman
Paul has been singing in choirs for 25 years; Firstly 18 years in a Male Voice Choir in Lancashire, latterly being Chairman. He sang with a Mixed Voice Choir for 2 years before moving to Staffordshire 4 years ago. Paul couldn't live without music in his life so within 3 weeks of moving to Uttoxeter he joined The Marchington Singers, which he is thoroughly enjoying.
His other interests are archery, tennis and a number of other sports now as a spectator though.
Music Librarian: Chrissie Smith
Bio and image to follow
Member Support: Linda Craske
Bio and image to follow
Committee Member: Christine Eales
Bio and image to follow
Singers' Profiles: Members of the Month!
Dave Thomas, Bass, member since January 2018
Occupation: Senior Lecturer in Information Systems
Hobbies and Interests: Cycling, swimming, entertaining, helping others learn, juggling, family and watching (nowadays) good rugby union
" I enjoy singing in harmony in a singing community. For me, the Singers help to satisfy a primal need to sing with others."

Denise Jukes, 2nd Soprano, member since September 2017
Occupation: Volunteer worker and housewife
Hobbies and Interests: gardening, walking her 3 dogs, reading and watching well-made drama on TV.
" I love singing with others and enjoying a lot of laughter. Singing lifts my spirit and makes me feel great every time!"
Lilian Deacon, 1st Soprano, member for over 20 years
Occupation: Retired
Hobbies and Interests: W.I., Church, reading, knitting, gardening and socializing
"I enjoy singing the wide variety of music and the friendships that come with being a member of the Marchington Singers."
Julia Jones, Alto, member since 2010
Occupation: Retired
Hobbies and Interests:  Singing, dog-walking, gardening, reading, knitting, jigsaws and crosswords, watching T.V.
"I enjoy singing and socializing with a really friendly group of people. Singing makes me happy and exercises my brain. Sometimes I go to rehearsals feeling tired but go home refreshed!"
Rachel Clemett, Alto, Bursary student and member since January 2018
Occupation: Sixth form student, studying A Levels in history, music, philosophy and ethics.
Hobbies and Interests: art, particularly painting and ink drawings, playing the piano, flute and guitar, as well as writing music; astronomy.
"Everyone is really kind and gentle; they are all enthusiastic and really love music. For me, singing improves my vocal range and musical knowledge. It is fun to do regularly."