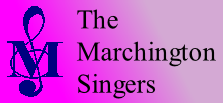 Join the Friends of The Marchington Singers (FOMS)
FOMS (currently just over 160) receive advance notice of all our concerts and booking forms that entitle them to discounted ticket prices, if they book early. This works very well and is one of the main reasons why all of our concerts are well attended.
If you would like to become a Friend of The Marchington Singers and be on our mailing list please complete the form below.
There is no subscription, we just want to encourage you to attend our performances!